A Red Dial interface that
looks and performs at its finest.
The innovative Red Dial interface is designed for a smooth workflow and optimal efficiency. It fits comfortably in your hand and can be programmed to zoom in and out on your canvas and scroll up and down more easily and accurately.
Puts optimized solutions
right at your fingertips.
Compared to the Artist 15.6,the Artist 15.6 Pro features 8 fully customizable shortcut keys and puts more customization options at your fingertips to suit you preferred work style, allowing you to capture and express your ideas easier and faster for optimized workflow.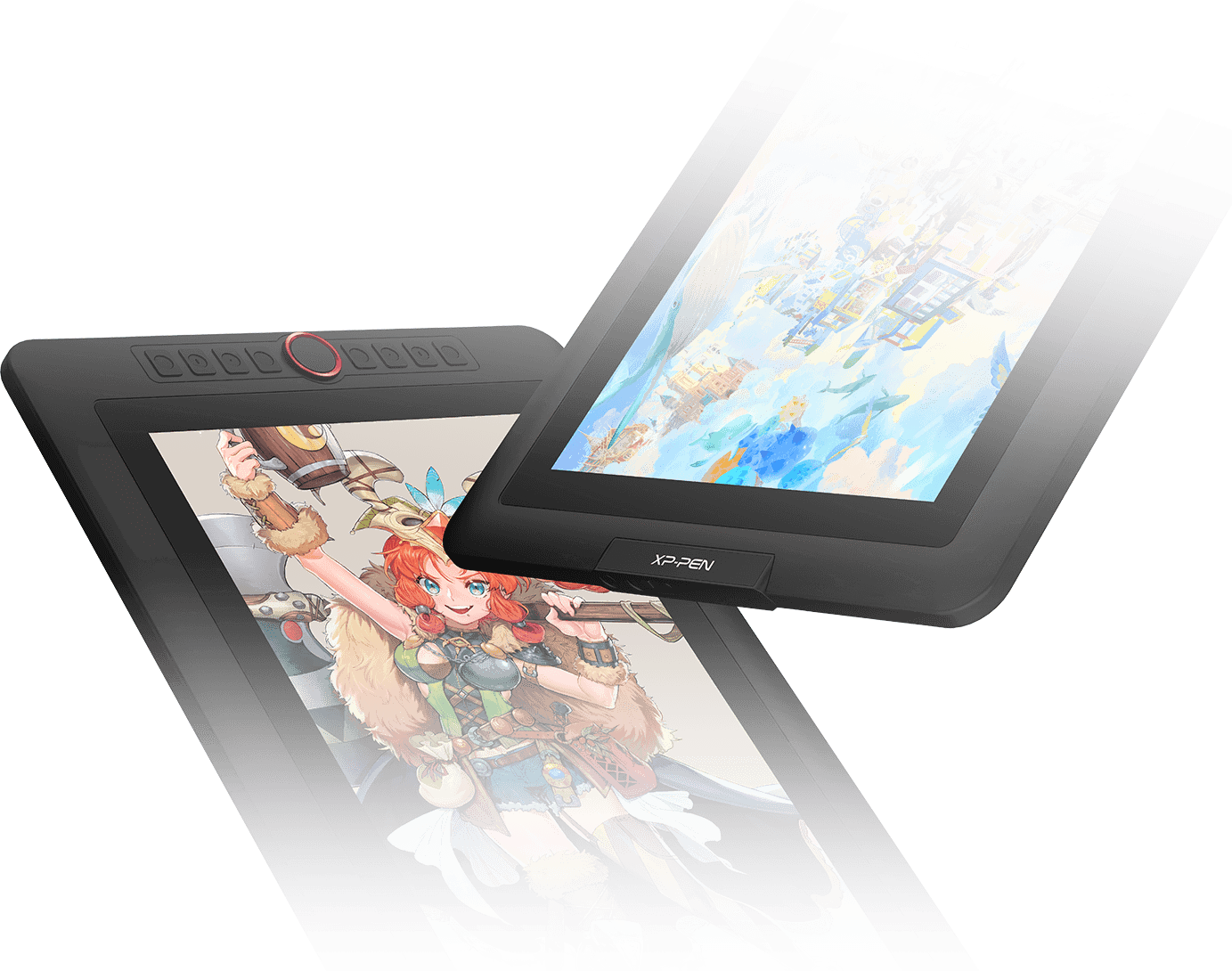 Sensitively Tilt,
naturally display.
The XP-Pen Artist 15.6 Pro supports 60 degrees of tilt function to ensure accurate imitation of a real tilting brush effect, delivering smoother and more natural transition between lines and strokes. You will enjoy a more naturally familiar drawing experience than ever before.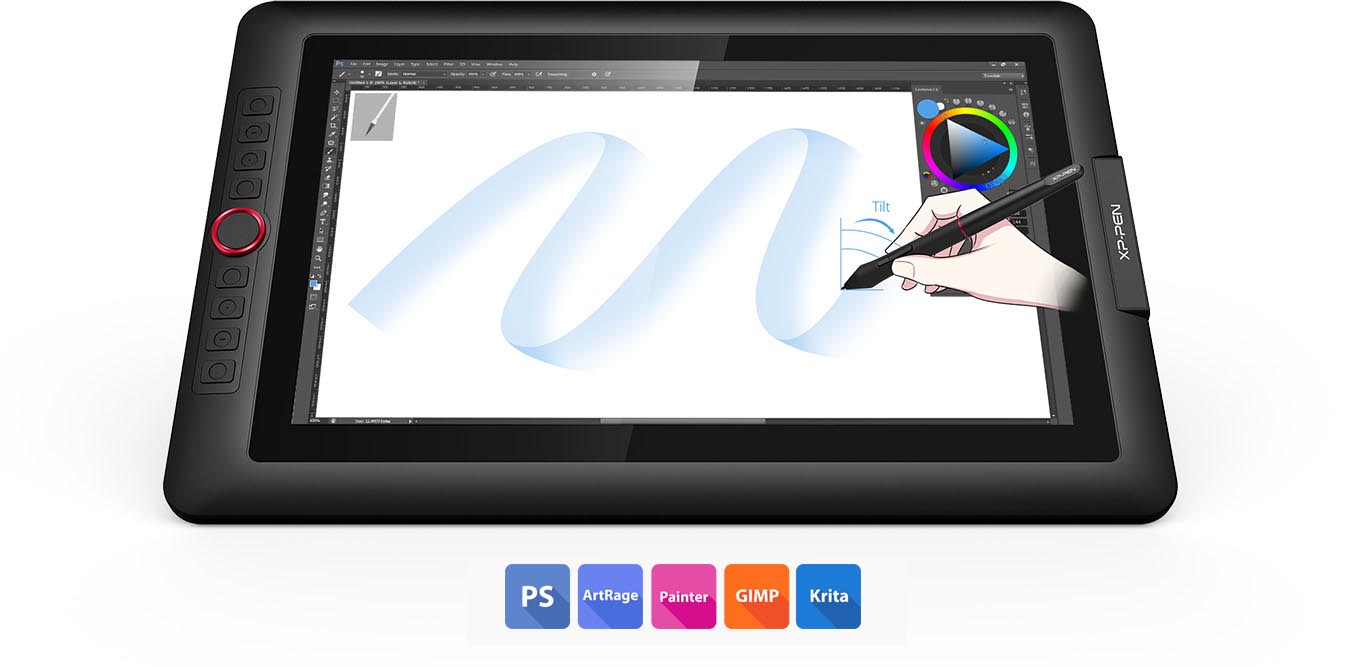 Marvelously colorful with
minimal visual distractions.
Adopting full-laminated technology, the Artist 15.6 Pro seamlessly combines the glass and the screen, to create a distraction-free working environment that's also easy on the eyes. The 15.6 inch full-laminated IPS Display pairs a superb color accuracy of 88% NTSC(120% sRGB ) with 178 degrees of visual angle and delivers rich colors, vivid images, and dazzling details in wider view.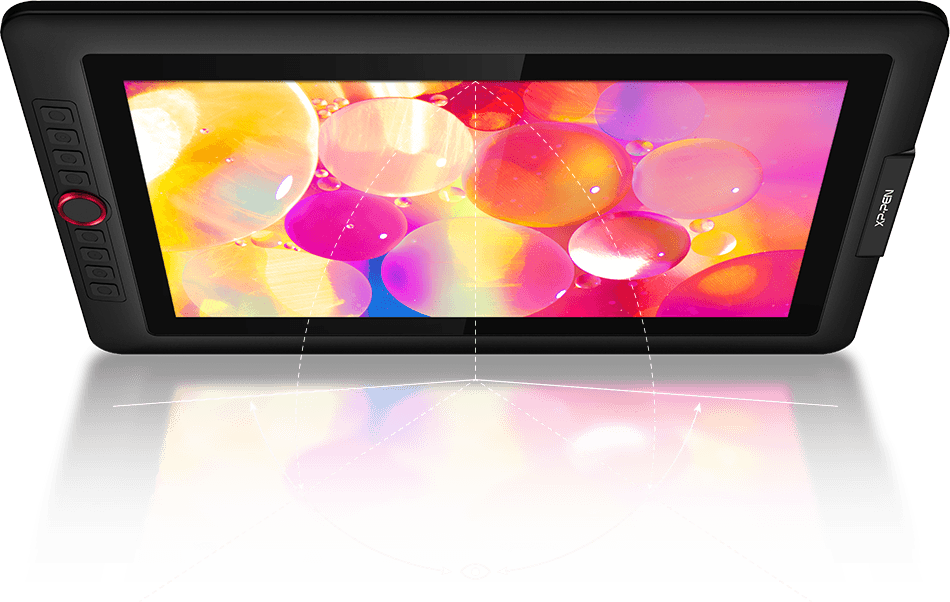 88% NTSC

More vibrant colors

More exquisite details
Premium performance
than the rest.
With up to 8,192 levels of pressure sensitivity, the PA2 Battery-free Stylus provides you with increased accuracy and enhanced performance to create the finest sketches and lines.

8192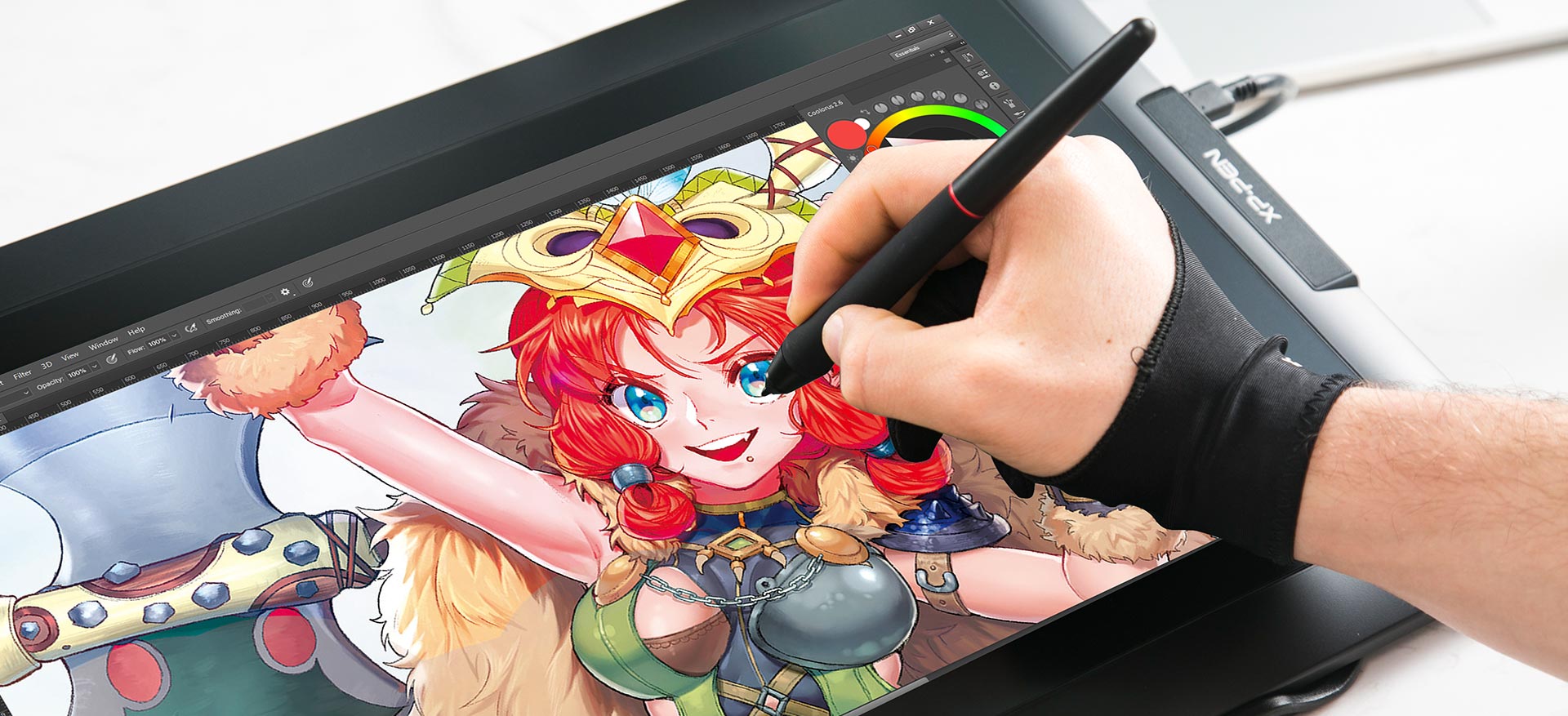 Sleek and smart designed.
The XP-Pen Artist 15.6 Pro features a slim 11mm profile, and with an easily accessible smart screen-brightness button, you can easily adjust it to your preferred brightness for comfortable drawing.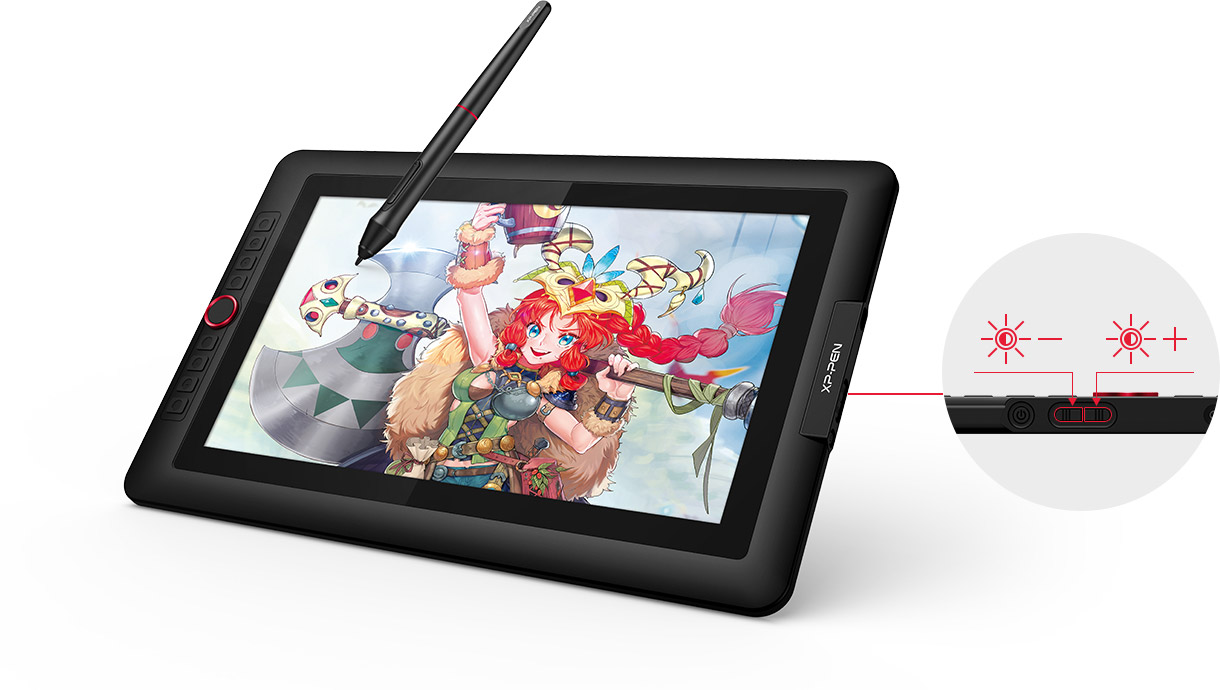 11mm
Accessories perfectly matched.
The portable stand is built to prevent shaking or sliding as well as relieve eye fatigue and hand stiffness. It also comes with a protective film to help protect your screen and reduce glare, while the pen holder keeps your pen and pen nibs safe and doubles as a pen stand or pen holder.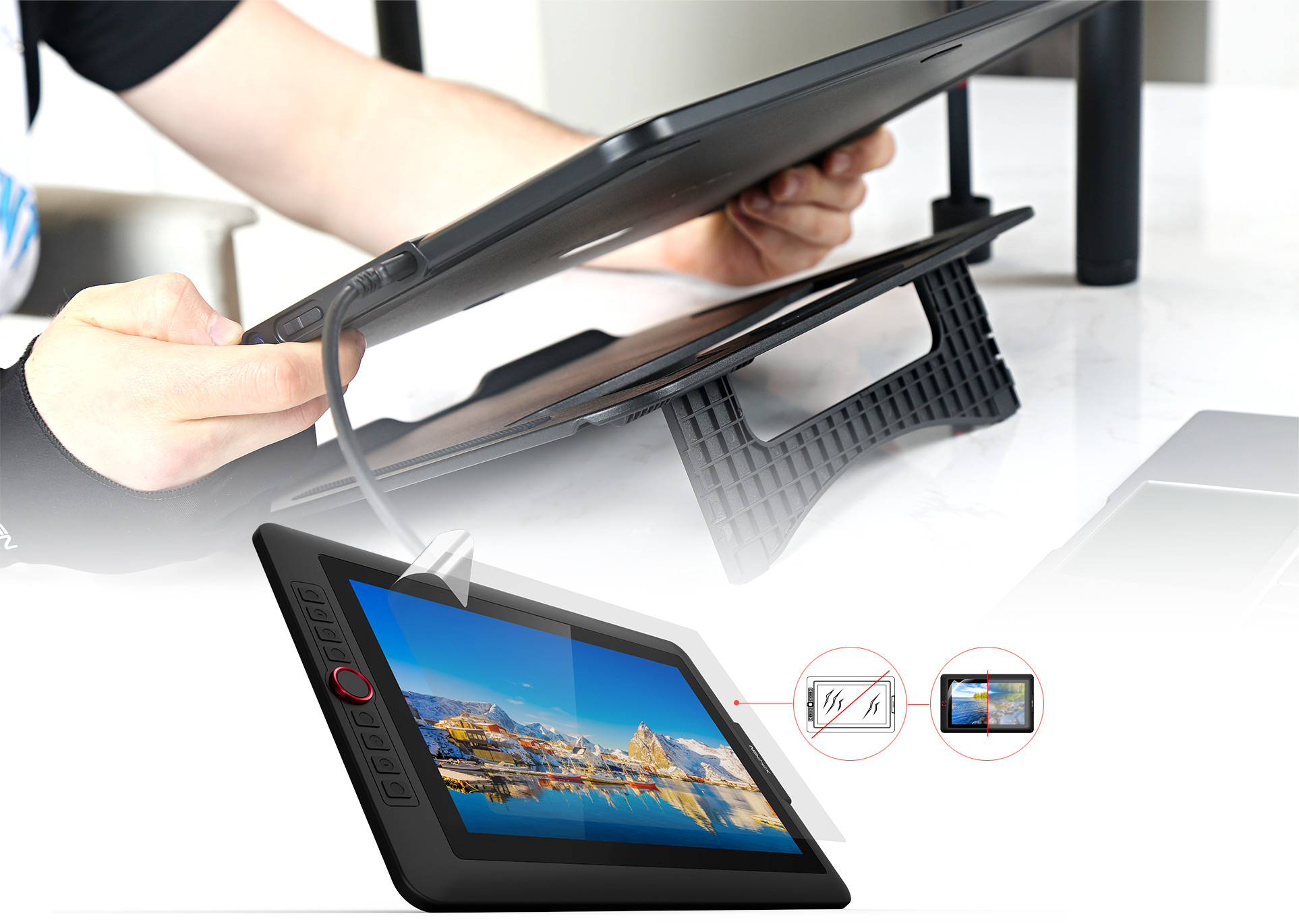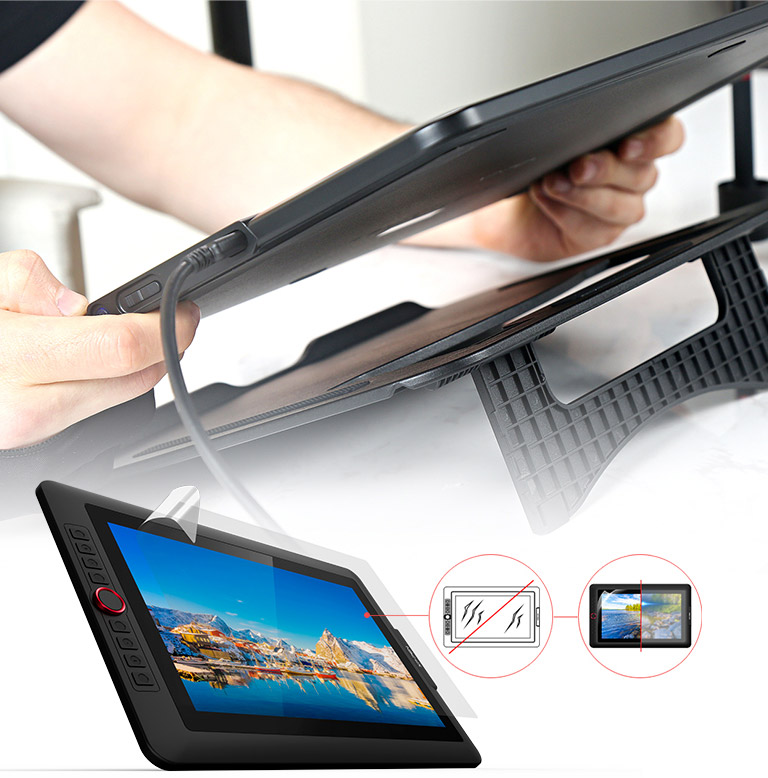 Scratch Resistance
Anti-glare
High Transparency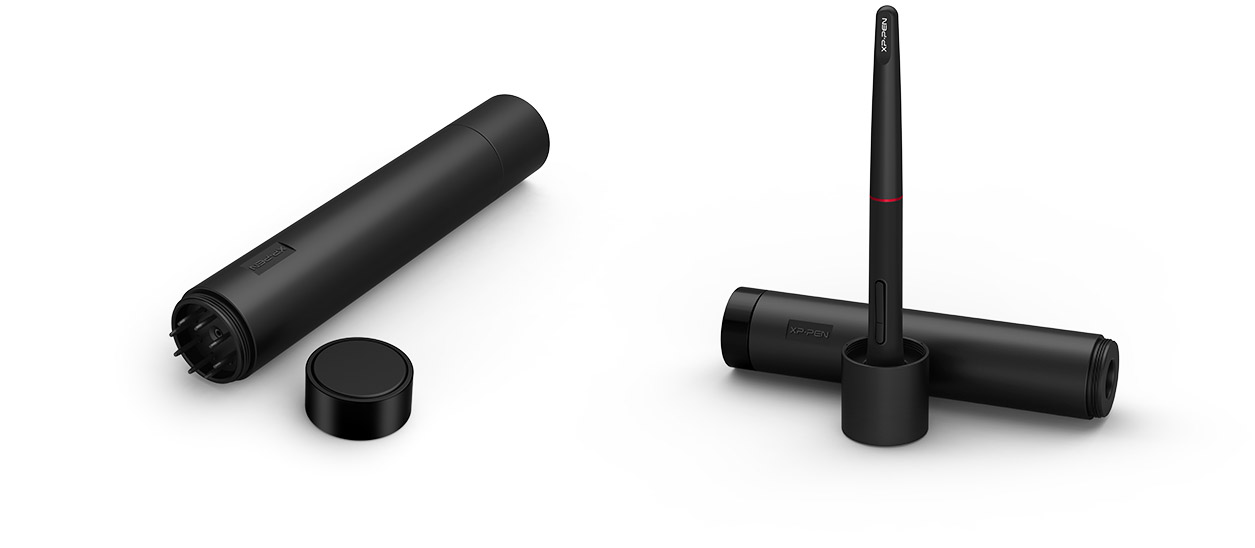 Draw and create your
better digital art world.
Sketch, paint, and design directly on the XP-Pen Artist 15.6 Pro's digital monitor surface! Get the full power of a pen display and draw and create anything creatively, naturally, and intuitively on the go.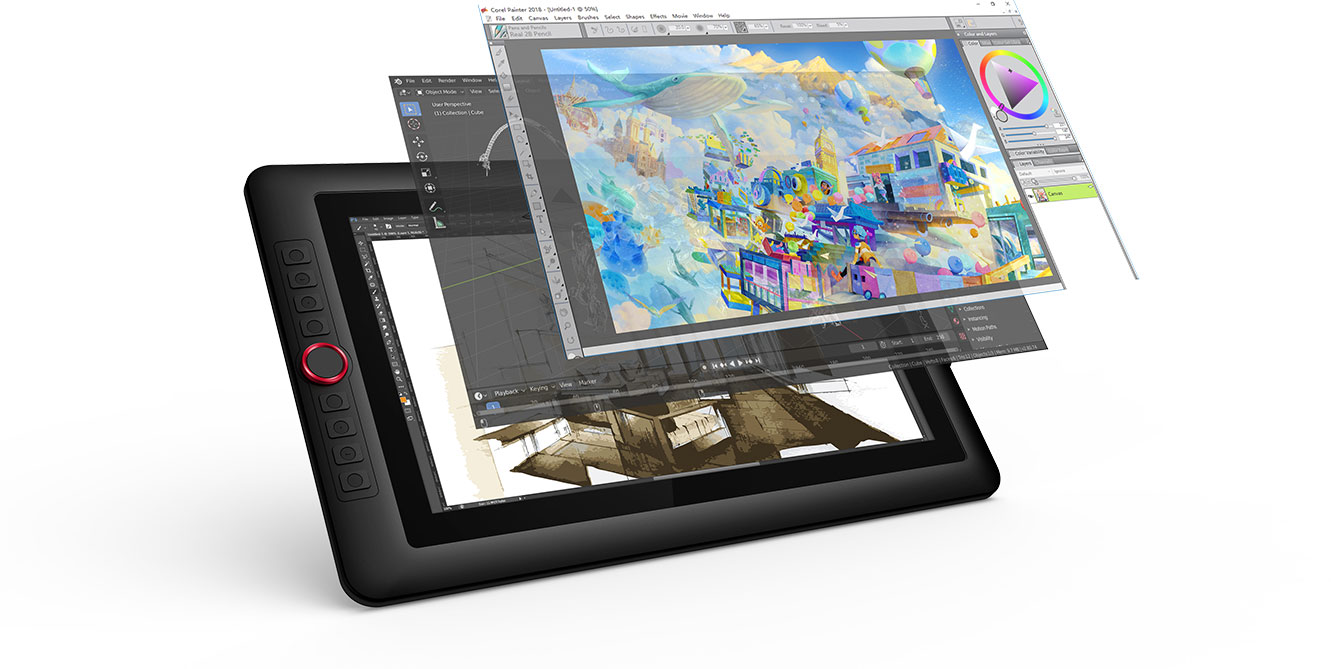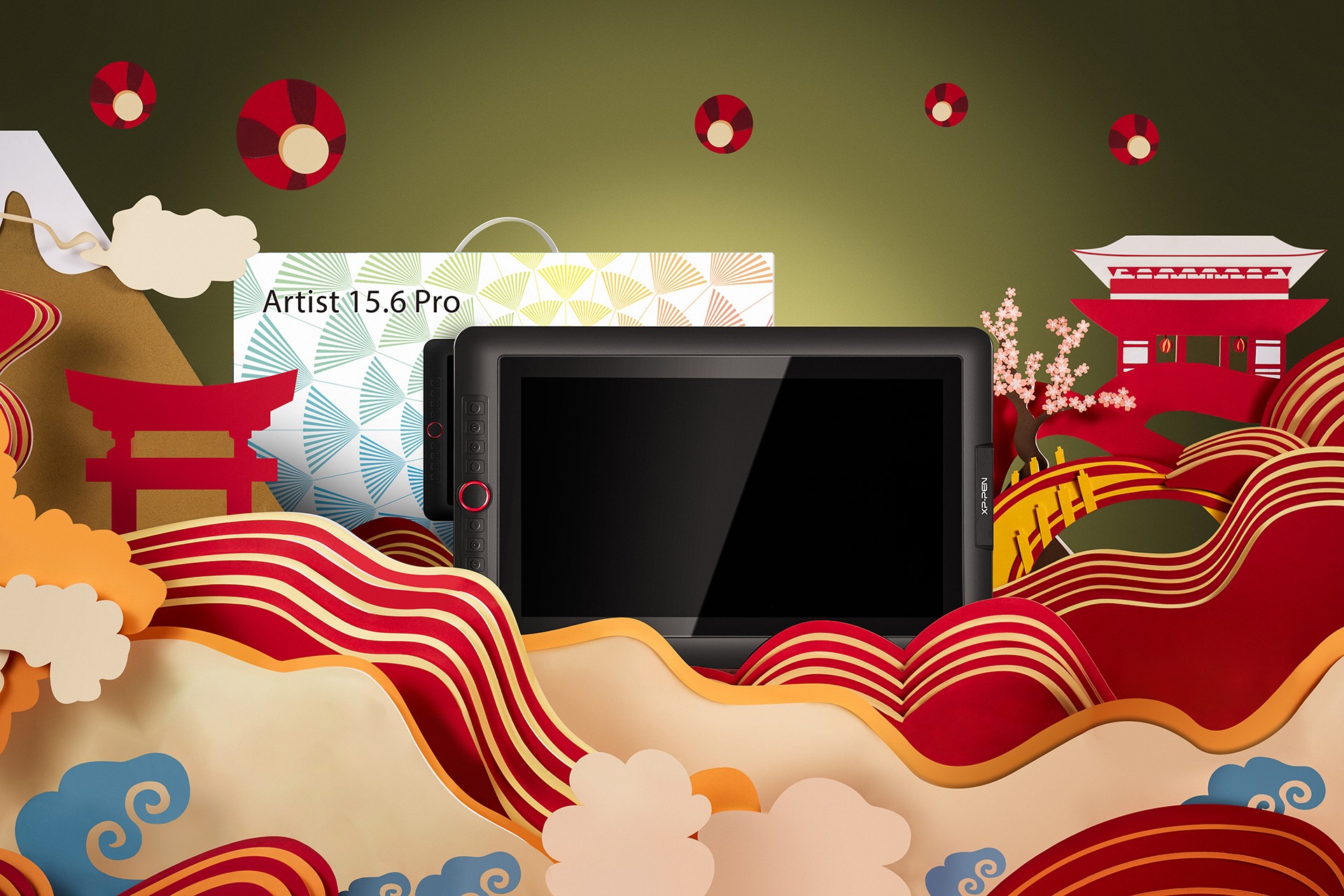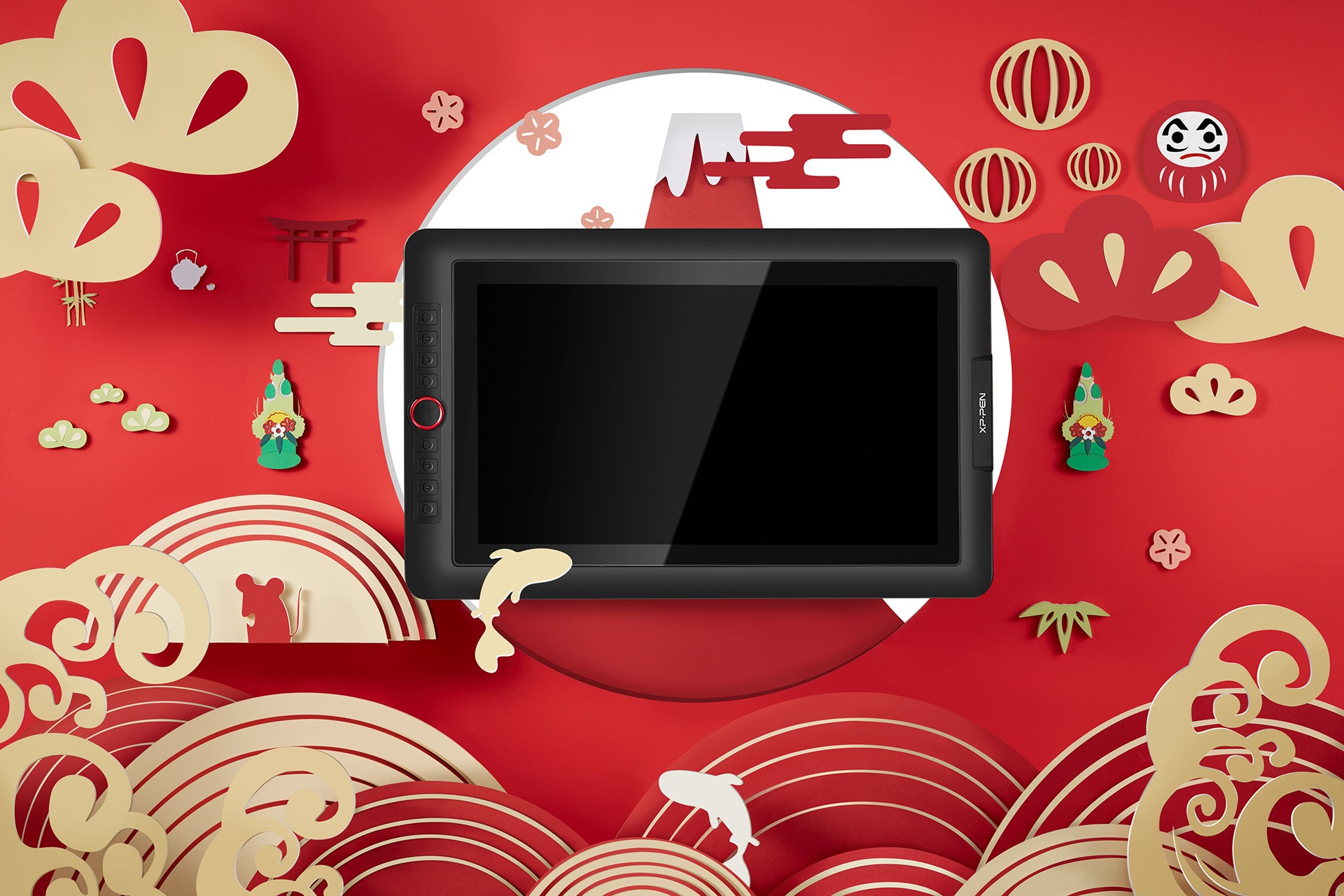 Singularly versatile.
The XP-Pen Artist 15.6 Pro is compatible with Windows® 10/8/7(32/64bit), Linux (Detailed versions), Mac OS X® 10.10 or later, and works with major graphics software like Photoshop®, Painter®, Illustrator®, Clip Studio®, and many more.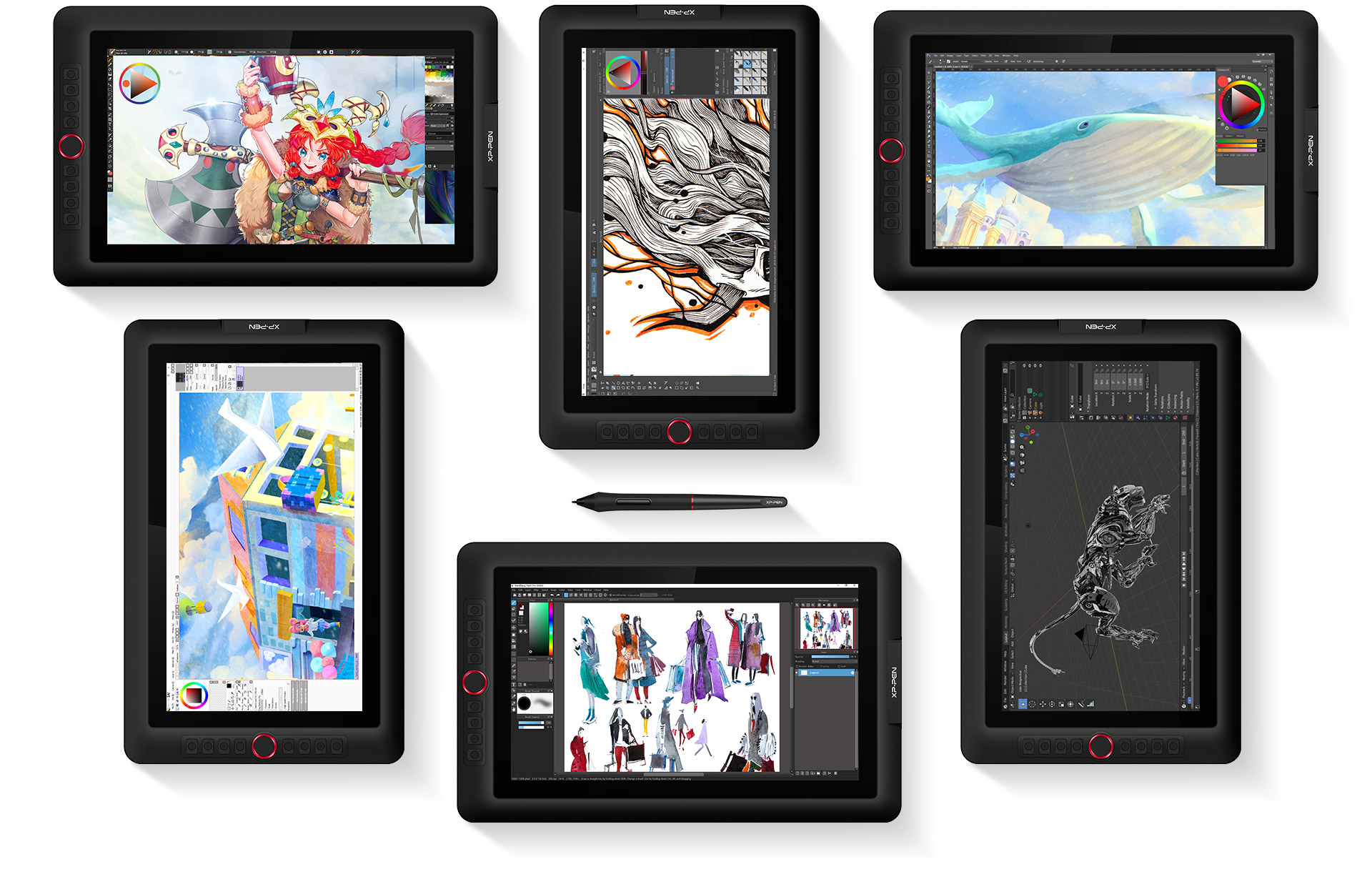 Specification
| | |
| --- | --- |
| Product Dimension | 443 x 280 x 12.6 mm |
| Active Area | 344.16 x 193.59 mm |
| Thickness | 11 mm((thinnest) |
| Shortcut Keys | 8 |
| Roller Wheel | 1 |
| Pen | Battery-free Stylus |
| Pen Pressure | 8192 levels |
| Tilt | 60 Degrees |
| Report Rate | ≧200 RPS |
| Display Resolution | 1920 (H)*1080(V) pixels |
| Display Color Gamut | 88% NTSC, 120% sRGB |
| Resolution | 5080LPI |
| Visual Angle | 178° |
| Input Device | USB |
| Supply Voltage | DC 5V |
| Reading Height | 10mm |
| Accuracy | 0.25mm(center) |
| Color | Black+Red Dial |
Package includes
1 x Pen Display
1 x Battery-free Stylus
8 x Replacement Nibs
1 x Pen Holder
1 x Portable Stand
1 x 3-in-1 Cable
1 x Extension Cord
1 x Quick Guide
1 x Drawing Glove
1 x Cleaning Cloth
Linux OS
Version
Package Format
Supported Software
Arch
Arch Linux2019.12.01(64-bit)
.deb, .sh
GIMP, Krita
Centos
Centos7.0(64-bit)
.rpm, .sh
GIMP
Centos8(64-bit)
.rpm, .sh
GIMP, Krita
Debian
debian-9.5.0-amd64-netinst(64-bit)
.deb, .sh
GIMP, Krita
elementary OS
elementary OS 5.0(64-bit)
.deb, .sh
GIMP, Krita
ezgo Linux
ezgo14(64-bit)
.deb, .sh
GIMP, Krita
Fedora
Fedora32(64-bit)
.rpm, .sh
GIMP, Krita
Mageia
Mageia-7.1(64-bit)
.rpm, .sh
GIMP, Krita
Manjaro
manjaro-xfce-20.1.2-201019(64-bit)
.deb, .sh
GIMP
Mint
linuxmint-18.2-cinnamon-64bit
.deb, .sh
GIMP, Krita
OpenSUSE
openSUSE-Tumbleweed(64-bit)
.rpm, .sh
GIMP, Krita
Pop!_OS
pop-os_19.10(64-bit)
.deb, .sh
GIMP, Krita
Red Hat
Red Hat7(64-bit)
.rpm, .sh
GIMP
Ubuntu
Ubuntu14.04(64-bit)
.deb, .sh
GIMP, Krita
Ubuntu16.04(64-bit)
.deb, .sh
GIMP, Krita
Ubuntu17.04(64-bit)
.deb, .sh
GIMP, Krita
Ubuntu18.04(64-bit)
.deb, .sh
GIMP, Krita
Ubuntu19.04(64-bit)
.deb, .sh
GIMP, Krita
Ubuntu20.04(64-bit)
.deb, .sh
GIMP, Krita
Function
Krita 4.3.0
Gimp 2.10.20
Inkscape 0.92
Pen Pressure Sensitivity
Tilt
Mouse Function
Eraser Button
(Stylus:PH01, P06)
Switch between Pen
and Eraser Modes
*If you have any further queries, please do not hesitate to contact us at service@xp-pen.com.


PS: Product has to be connected to a PC when running.